Per Capita undertakes research and develops policy recommendations in a number of focus areas. Our overarching focus is fighting inequality in Australia. Once our ideas are developed, they are subjected to rigorous peer review, and then communicated widely, both in the public domain and through our own extensive network of senior decision makers in government, industry, and the public service.
Our track record in developing new policy approaches that have been subsequently adopted by government demonstrates our influence.
Progressive Economics
May 28, 2023
The Australian Inequality Index is a ground-breaking new tool that provides a multidimensional measure of inequality across a range of economic, social, and demographic indicators.
Work and Workers
April 29, 2023
The employment services system is failing. Privatisation, announced with much fanfare 25 years ago, has not delivered on its promises, and substantial change is urgently needed.
Work and Workers
April 27, 2023
We acknowledge that the Bill is the next step in building a fairer more securing workplace relations system, after years of neglect, and look forward to making further submissions relating to governments agenda of closing the loopholes some businesses use to undercut worker security.
Uncategorised
April 21, 2023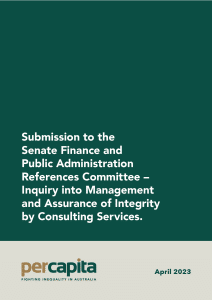 This submission is primarily concerned with outsourcing functions to private consultants, which have historically been within the purview of the Australian Public Service ('APS').
Work and Workers
April 21, 2023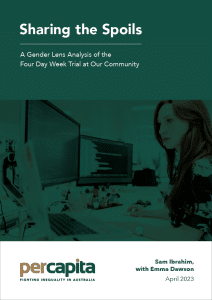 In recent years, calls for shorter working ours without a reduction in pay, in terms of a four-day week (4DW), have become increasingly prominent around the developed world.
Progressive Economics
March 30, 2023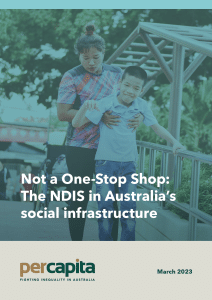 Government support to NDIS Tier 2 services was diminished under the previous government, despite calls from the sector, and the Productivity Commission, to return the scheme to its original design.
Equitable Housing
March 30, 2023
The Australian Housing Monitor is a new annual survey of public attitudes toward, and experiences of, housing.
Progressive Economics
March 27, 2023
Poverty is best understood as neither a personal failing nor as an historical accident. Rather, it is the consequence of power relations, such as those between working people and their employers, or between citizens and the state.