We don't just work quietly at our desks. We're vocal. Engaging with the media is one of the best ways to get our message about inequality in Australia out there, and we're not afraid to be opinionated. Browse our media pieces and appearances below.
Media Releases
May 30, 2023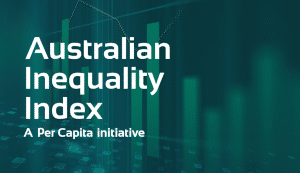 The Australian Inequality Index is a ground-breaking new policy tool that provides a multidimensional measure of inequality across a range of economic, social and demographic indicators.
Media Releases
January 19, 2023
Senior Labor members including a former president of the Victorian branch have attacked the party's "chequered history with exploiting ethnic communities" and urged it to start laying the groundwork to increase cultural diversity in its parliamentary ranks.
Public policy think tank Per Capita has entered into a partnership with the Labor Environment Action Network (LEAN) to work on applied policy development that will support Australian communities to achieve full employment in a low-carbon economy. The focus for the joint research will be policies to facilitate 'mission based innovation' that builds strong regional ...
Read more