The Centre of the Public Square Launch
Victorian Trades Hall Council, Fringe Common Rooms Corner Lygon and Victoria St, Carlton VIC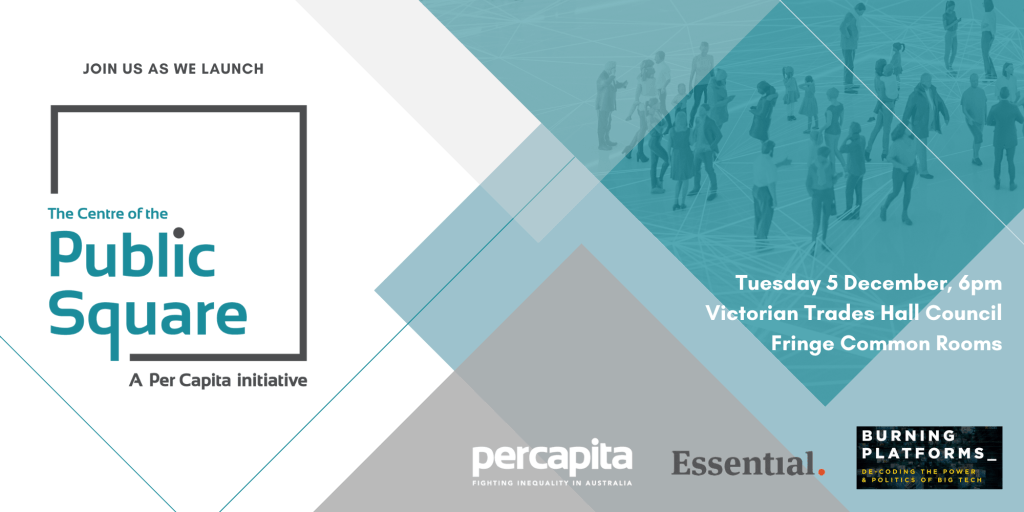 Per Capita and Essential Media invite you to the launch of our initiative to build a better democracy.
The Centre of the Public Square will:
Advocate policies that support citizens above corporations;
Grapple with the changing nature of public discourse as social media displaces the power of broadcast and broadsheet news;
Run collaborative projects that test new models of civic engagement; and
Over time, build a platform to support citizens to connect with civil society and government.
Join us at the Fringe Common Rooms, Victorian Trades Hall Council, at 6pm on Tuesday 5th of December for drinks and a live recording of the Burning Platforms end-of-year podcast.
Victorian Trades Hall Council, Fringe Common Rooms Corner Lygon and Victoria St, Carlton VIC